Description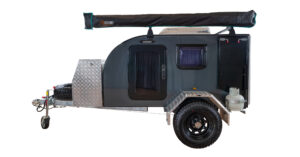 Fast Setup & Easy to Tow
The Brumby 121 is the perfect camper trailer for the great outdoors. With its compact, high-quality design, you can manoeuvre the camper single-handedly. Its ergonomic design will reduce your fuel bill significantly, and you will barely notice you are even towing anything at all. With fast setup and pack-up times, you will spend more time exploring and less time stuffing around.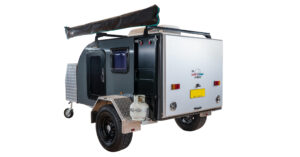 Secure, Compact With Cleaver Storage Solutions
Take the hassle out of planning your journey with a plug-and-play camper trailer. If space is what you need at your place, then the Brumby 121 won't disappoint. This cleverly designed camper can securely store all your equipment in lockable storage compartments. The kitchen has all the storage compartments and workspace you need.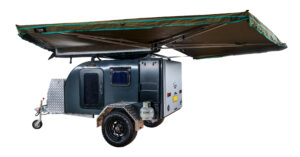 On Board Kitchen, Water Storage & MORE
We have thrown everything at this camper, even the kitchen sink. With ample water storage, on-demand pressurised water, a gas stove, and a TV, you will have everything you need to impress the most demanding food critics. Isn't it about time you start enjoying the great outdoors instead of enduring it? The Brumby 121 has everything set up for your adventure, including a ready-made bed and ample storage space for all your equipment. Air conditioning to stay cool in summer and warm in winter and solar panels to boot.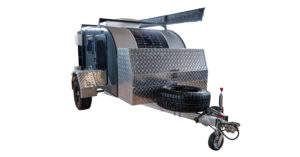 Customise The Camper Your Way
Within minutes, you can have your 30-second awning set up with chairs, dining table, and pop-up kitchen ready to start stoking that campfire under a billion stars. There are so many optional extras for you to customise the camper trailer, including air conditioning, an Ironman fridge, his and her reading lights, a self-priming water pump with shower faucet, and much more.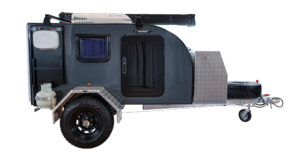 Aussie  Made – Built Tough!
This compact camper trailer is one of the best teardrop campers for sale on the market today. The Brumby 121 Camper has been over-engineered to withstand the harshest conditions and exceed the highest safety standards so you have a safe and reliable adventure.
"Experience the Ultimate in Australian Camper Trailers: The Brumby121"
We are an Australian camper trailer manufacturer built for Aussie conditions, meeting camper trailer Australia standards. So you can get your camper trailer on the road sooner knowing that you meet all the Australian compliance and insurance requirements. So get instant access to all your creature comforts all in one place with the Brumby121. Check out our optional extras and discover what else is possible.
NOTE: All trailers made at The Teardrop Camper Company Pty Ltd are made in accordance with Vehicle Standards Bulletin VSB1. It is the customer's responsibility to comply with any further requirements pertaining to their particular State or Territory.
| SPECIFICATIONS | BENEFITS |
| --- | --- |
| Flip-up large jockey wheel. | This provides support, stability, and easy manoeuvrability to attach your camper to your Off-road vehicle. |
| 100 mm x 50mm x 3mm drawbar. | The drawbar is designed for the toughest road conditions. |
| 75mm x 50mm x 2.5mm RHS full chassis hot-dipped galvanised, | Rectangular Hollow Section (RHS) is hot-dipped galvanised, providing protection & prevention of rust. |
| Ultima 4×4 shocks. | Whilst the original equipment shock absorbers provided a comfortable ride, it was agreed the Ultima shock absorbers are firmer, have less rebound over bumps, and provide better handling when cornering. |
| 10" electric off-road drum brakes | They provide smooth efficient braking when operated by a vehicle-mounted electric brake controller, which also provides the ability for the driver to manually apply the trailer brakes independent of the tow vehicle braking system, thus giving you a safer drive. |
| 360-degree AL-KO articulating ball coupling | Quick & easy hitching design that requires no pin or hole alignment and gives better articulation over bumps. |
| 3 x Sunraysia type 16-inch wheels with 245 x 70 R16 111 H tyres. | Gives good traction control when towing your camper. |
| Bracket for Spare wheel. | To easily secure your spare tyre. |
| 7-pin flat plug | 7-pin plug and the tow vehicle has a flat 12-pin socket, the 7-pin can be directly plugged into the 12-pin and still operate all of its seven trailer functions. |
| | |
| --- | --- |
| Tare mass | 740kg |
| ATM | 1200kg |
| Towball weight (empty toolbox) | 75kg |
| Width cabin | 1500mm |
| Width outside guard to outside guard | 2160mm |
| Overall Height to the top of the vent | 2100mm |
| Overall length front of hitch to rear | 4200mm |